The Design Team has cooked up some fun challenges for you this month to help you get your mojo on.
Guest Designer Heather's Challenge:
I've been trying to scrap out of my comfort zone recently and practice styles other than what I'm most comfortable with. With all the fun papers around recently I decided to do a whimsical fun page.
For this challenge break out the inner child and add some whimsy to your page. Here's my example
Carla's Challenge:
My challenge this month is to scrap about a family tradition. Maybe is something special that you do for birthdays, or maybe a holiday event that you ALWAYS take part in. My layout is about a Christmas tradition we do. The kids get a new ornament each Christmas Eve.
I like putting 'frames' around my photos but sometimes I get tired of the same ole thing...so I went a little 'out of the box' on this frame...
November is a BIG month for football around here and I was so inspired by that this month that I thought why not make a "sporting" LO. So here's what I came up with.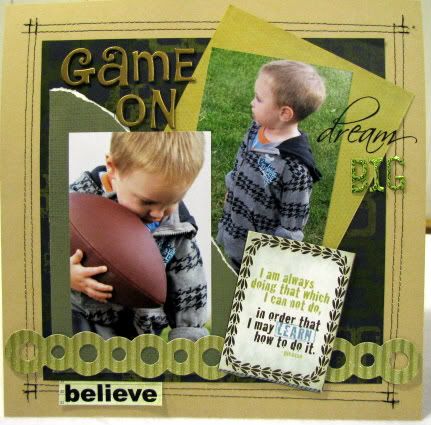 Your challenge this month is to do a LO that features some sort of sporting or athletic activity.
This month I will be offering up small project created by me as a RAK for taking on this challenge (by random draw)! Have fun, I can't wait to see what you do with this!!
My challenge to you this month is to
"Get Your Grunge On!"
Grunge is not a style I typically gravitate towards, but sometimes it's fun to try out something different. This month I want you to crumple, tear, ink, splatter, stitch, pierce, scratch, and mist your project to give it that old, grungy, lived in feel.
Have fun!